Youth Shaped Scouting
On Sunday the 2nd April 2017, 60 young people descended on the 1st Drayton Scout HQ to take part in the District's Youth Shaped Event.
The event was held to support the Scout Associations aim is that its youth members have a real input into the activities that are delivered, not only in their Groups and Section meetings but also by the District.
During the day the young people took part in team building activities in mixed section and group teams.
The day was split into two parts. The morning saw the Beavers and Cubs taking part in sticker archery, a gutter ball challenge, building fires/backwoods cooking and a water (nuclear waste) transportation challenge.
In the afternoon the Scout and Explorer teams also took part in three challenges. There was a "fire" challenge. This required them to build a fire and heat some water to a temperature where a stick of spaghetti would become soft enough (but not too soft) so that it could successfully be tied into a knot without breaking.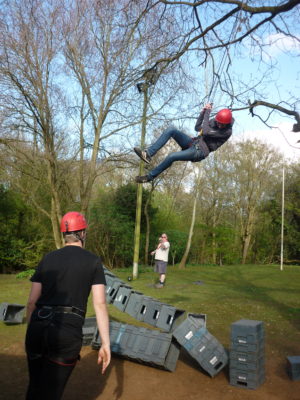 They also did crate stacking and a "nuclear waste" challenge (similar to that completed by the Beavers and Cubs but incorporating a much more demanding course with more challenging obstacles).
Each section held forums where they discussed the types of activities they did (or would like to do).  This information will be reviewed by the sectional ADC's and section leaders to endeavour to include some of the ideas in the programmes in the coming year.
The winning team members from the morning and afternoon "nuclear challenges" each received an Easter Egg.
The event was supported by 11 of the 13 Groups in the District.  Each Group provided leaders to run the activities and we were also grateful to the District's Scout Active Support Unit who ran the backwoods cooking activities.
During the event Martin Page, District Explorer Scout Commissioner, presented the Chief Scout's Platinum Award to Georgie Burton from HAndS ESU and Judith Pryke, Assistant District Commissioner (Cub Scouts) presented the Chief Scout's Silver Award to Leo Plunkett from the 1st Drayton Cubs.
A huge well done to all of the Beavers, Cubs, Scouts and Explorers who took part and a massive thanks to all of the adult volunteers who made it happen.
To see more photos from the day, take a look at the photo gallery.